Amazon Music: The Dark Horse Comes Out Of The Shadows
MIDiA has just published a new report that analyses Amazon's streaming music strategy and how this fits within the wider competitive landscape. Here are some highlights: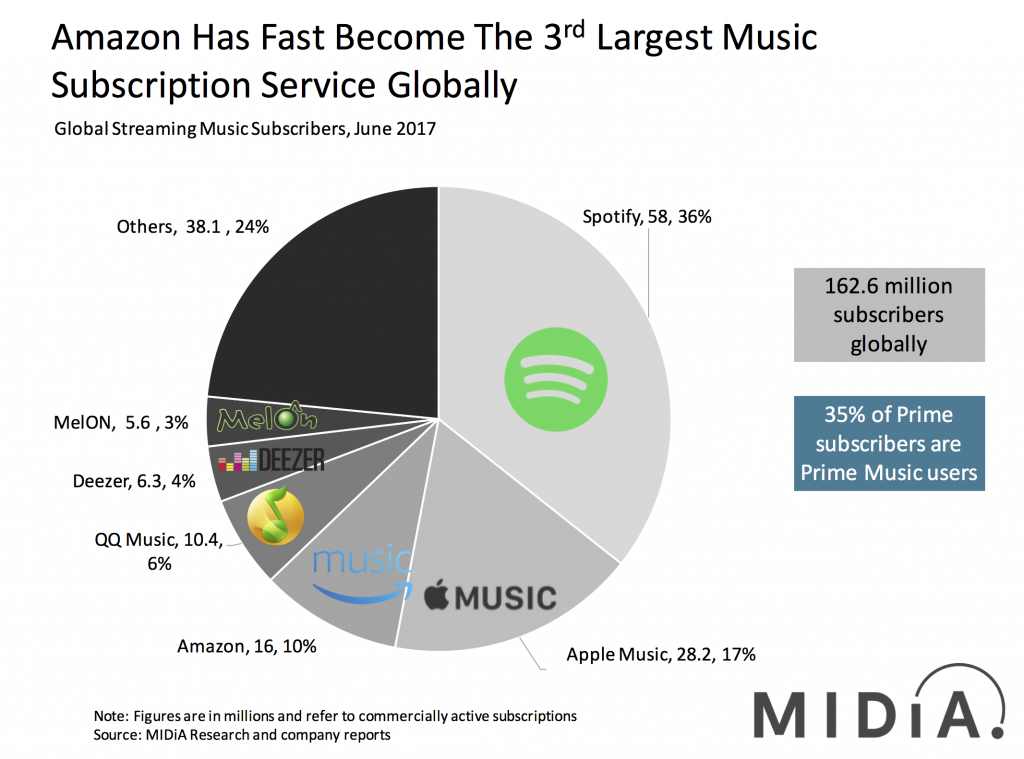 Back in the days when online music meant online CD sales, Amazon was the king. Then, along came Apple with iTunes music store and Amazon saw the throne snatched from its hands. No sooner had Apple started to enjoy its reign that Spotify came along to usurp the throne. Now streaming's game of thrones is experiencing another plot twist, with a resurgent Amazon battling for supremacy through an ambitious streaming music strategy that owes a considerable debt of gratitude to Apple for strategic inspiration. Throughout the emergence of the streaming market, Amazon has played the role of a dark horse, skulking on the side lines. Now, Amazon is out of the shadows and revealing its potential to be one of streaming's biggest players:
Delivering the numbers: Total music subscribers globally grew to 162.6 million in June 2017, up 30 million from 132.6 million at the end of 2016.* Amazon Amazon is now the third largest streaming music service globally with 16 million subscribers as of June 2016, across Amazon Prime Music and Music Unlimited. The nearest challenger is QQ Music in fourth place with over 10 million subscribers, but Amazon has its eyes set firmly upwards, and Apple Music is in its sights. Meanwhile, Spotify remains on a different lap of the streaming race compared to the competitors, largely retaining market share regardless of the competition, as Amazon's role is transformed. Since June 2014 Amazon accelerated from 14th position to third place in the global streaming rankings.

Commercial strategy: Of the top six streaming subscription services only Spotify is truly independent (Deezer is in principle, but is majority owned by Access Industry which also owns, among other things, Warner Music). What this means is that Spotify, and to a lesser degree Deezer, are the only ones that live or die by commercial sustainability. Apple measures success by how it enriches the Apple ecosystem, and Amazon by how it enriches the Prime ecosystem. In fact, Amazon is taking Apple's 2000s iTunes / iPod strategy and applying it to household devices (Echo, Fire TV) for Prime. Amazon is pivoting much of its business to services-based revenue streams (eg AWS, Video) and its streaming music strategy is part of that, building a content play for when media sales die. Amazon is investing in its long-term future.

Audience strategy: More than two-thirds of music subscribers are aged under 40, with the majority of them aged 25-34. Everyone is chasing the same, narrow band of younger, mobile centric, engaged music fans. Everyone, except Amazon that is. Amazon's strategy is to compete around everyone else, aiming for the larger addressable base of mainstream, older households. Unfortunately, many of these users are unlikely to want to pay $9.99 a month just for music, and most don't spend much time listening to music on their phones. This is why Alexa, Echo and the Prime ecosystem are Amazon's secret weapons, delivering free-at-point-of-access, speaker-led music experiences.
This report is immediately available to MIDiA Research subscription clients. You can also find out more about the report and purchase it and the accompanying 2,100 datapoint survey dataset and other assets here.
*MIDiA has upgraded its 2016 subscriber number slightly to reflect the inclusion of various additional emerging markets services that we did not previously track.
Trending