Beggars Group, Sky, The Economist, Plus more Speakers at the Access vs Ownership Industry Event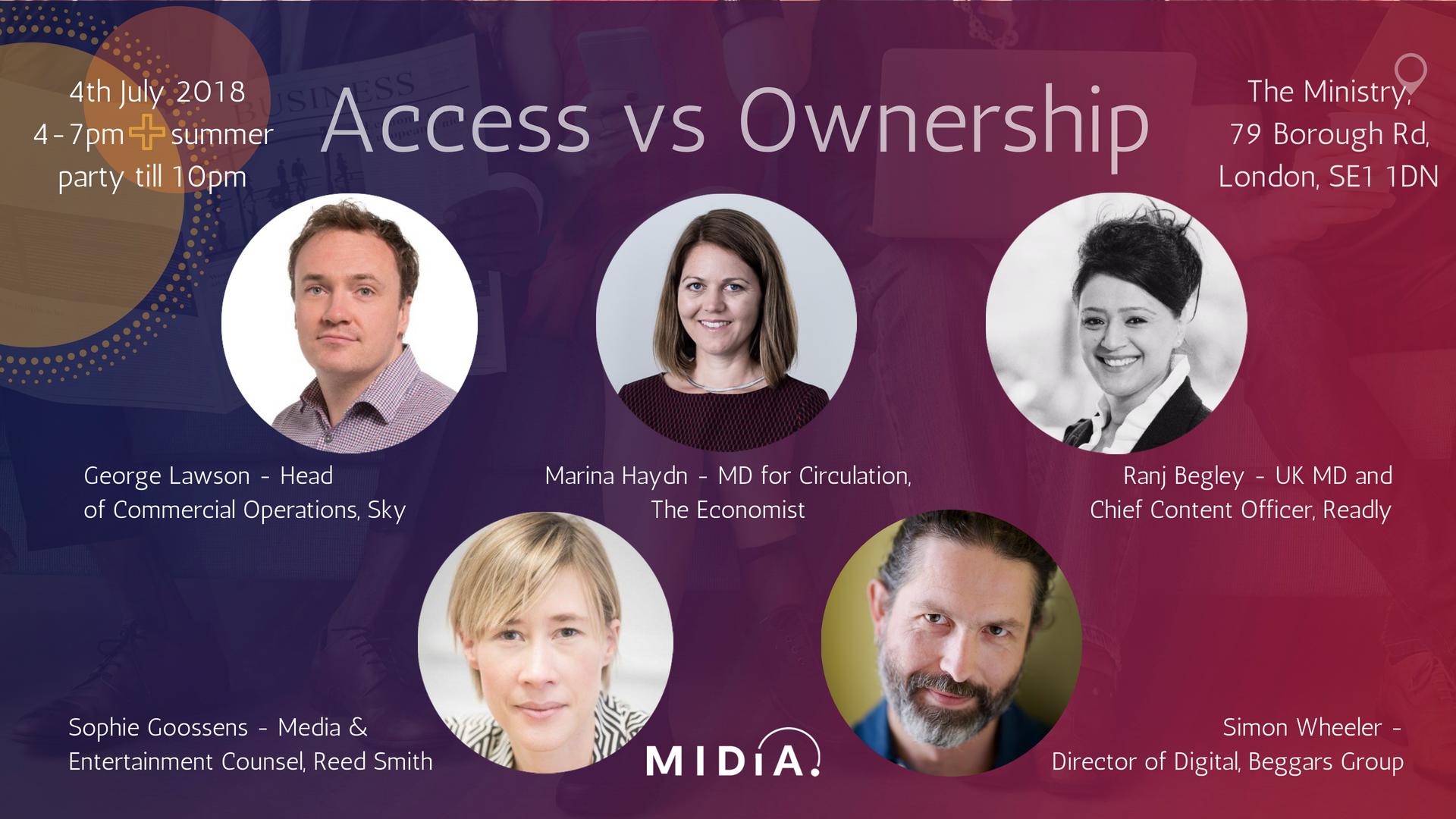 MIDiA is back with another exclusive industry event, bringing together experts, decision makers, innovators and entrepreneurs from all across the digital entertainment spectrum.
This event will explore the transition in music and video from linear consumption to streaming and subscription, examining the impact of the access-over-ownership shift and what to expect of its denouement.
Industry bellwethers from Sky, Beggars Group,  The Economist, Readly and Reed Smith will be bringing learnings of what they see working well in their respective fields and what they think it will take to convert the next wave of subscribers. We'll also explore how far we think things can go in terms of adoption.
Read More About Our Panellists Below
Who should attend:
- Record labels, TV networks, music publishers and production companies: To better understand how evolving modes of consumption are impacting their audiences, what the future effect will be and how they should respond;
- Content producers in music and video: To help understand how emerging consumption behaviours will affect the type of content that is produced, i.e. short-form content geared towards messaging apps, while playlists are gradually becoming the norm for music consumption;
- Video and music streaming services: To identify what opportunities lie ahead to capitalise on growth of respective models at the expense of the incumbents and how those incumbents can shore up their defences against former frenemies turned fully fledged foes;
- Agencies: marketing, advertising: Learn about where audiences are spending time consuming content. How old are they? Which platforms do they use? How long do they spend consuming? These are all questions that will be addressed;
- Investors: To help build a picture of the future trajectory of the digital content economy, informing where potential investment opportunities may lie.
REGISTER FOR ACCESS VS OWNERSHIP HERE
---
Access Vs. Ownership panel
Marina Haydn
EVP, Managing Director of Global Circulation, The Economist
Mrs Haydn leads the global readership business of The Economist, which is the largest revenue stream for The Economist Group. The responsibility encompasses marketing, retail, customer retention and operations - catering to our existing 1.4M customers while seeking to find new readers. She joined The Economist Group in 2001, and since has held a variety of management responsibilities in conference marketing and operations before moving into readership marketing. She is an Austrian citizen born in Barcelona, raised in the US and Germany with a degree in communication science from the University of Vienna. It is her nature to press forward for progress - in particular leveraging The Economist's editorial insights on a range of subjects including gender equality, open borders and climate change. As a senior female business leader, she takes active responsibility for driving cultural and societal change by creating positive, reflected dialogue. 
George Lawson
Head of Commercial Operations at Sky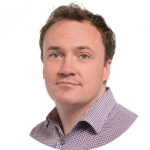 George is Head of Commercial Operations in Sky Business, the B2B arm of Sky UK. George's principle responsibility is to establish and lead the strategy to protect IP, support customers and maximise opportunities from commercial piracy. George is an experienced leader of IP protection with a demonstrated history of successful strategy implementation in the broadcast media industry. Skilled in Digital Strategy, Brand Protection, Anti-Piracy, and Stakeholder Management. Strong business development professional with a BA (hons) focused in Marketing.
Ranj Begley
Chief Content Officer | Managing Director at Readly UK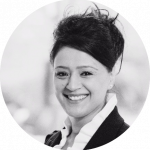 Ranj Begley is the Managing Director of Readly UK, the ground-breaking, all-you-can-read magazine service. Readly has won a series of awards around Europe, including the PPA's prestigious App of the Year. Begley built this start-up from the bottom up, brick by brick, to its current position where it now deals with all the leading UK publishers and its rapidly growing consumer footprint already covers 50 territories worldwide.  That has meant constantly shifting between strategic planning, day-to-day management and raising funding, all undertaken at top speed.  In addition to her UK responsibilities, Begley is now leading Readly's expansion into new markets around the world.  Prior to founding Readly UK, Begley held a number of senior management positions in marketing and business development roles in publishing and fulfilment companies including Dovetail, Highbury House, CDS Global and UBM plc.
Simon Wheeler
Director Of Digital at Beggars Group
Previously a musician, engineer, producer, remixer and promoter, Simon has been with The Beggars Group since 1990. Starting work with online distribution in 1997, Simon has since worked with almost every significant entity in digital media. He has spoken at most music conferences around the world on digital music and media strategy, made statements to the UK parliament and has testified at the USA's CRB webcasting proceedings. He is also a board member of Video Performance Ltd (VPL) and Consolidated Independent (CI), but the most important role is keeping the Beggars Group of labels at the forefront of all new technologies to deliver its roster of artists to the widest possible audience. The Beggars Group represents 4AD, Matador, Rough Trade, XL Recordings and Young Turks.
Sophie Goossens
Entertainment and Media Industry Counsel, Reed Smith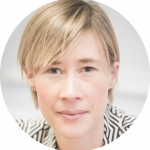 Sophie is a digital media lawyer with over 10 years' experience as counsel to media and technology industries. Brussels born, and based between Paris and London, Sophie balances technical legal experience – in Contract, IP, IT, Data and European law – true commercial insight and cutting-edge knowledge of developments in the tech sector. She leads Reed Smith's Entertainment and Media Industry practice in Paris.  She acts as counsel and litigator for French and international clients – household names and start-ups – in digital music, audio-visual, image, video games, advertising, heritage, virtual reality and artificial intelligence, as well as state-of-the-art data intelligence and technology providers, and advises them on all topics relating to IT, content acquisition, distribution, monetisation, strategy and control. Sophie has a particular experience in digital music and the imagery sector after spending close to six years in-house or seconded to record companies, streaming services and, most recently, to Getty Images.
REGISTER FOR ACCESS VS OWNERSHIP
Trending