Emerging Music Markets: Streaming's Third Wave
MIDiA has just published a new report that deep dives into how streaming is, or in some cases is not, lifting off in emerging markets. The regions we focused on were Russia, the Middle East, sub-Saharan Africa, China and India. The report 'Emerging Music Markets: Streaming's Third Wave' is immediately available to MIDiA subscription clients and can also be purchased, along with its full dataset (including service- and country-level subscriber and free users numbers, as well as consumer data for India and China) on our report store here.
Here are some of the key findings and themes of the report.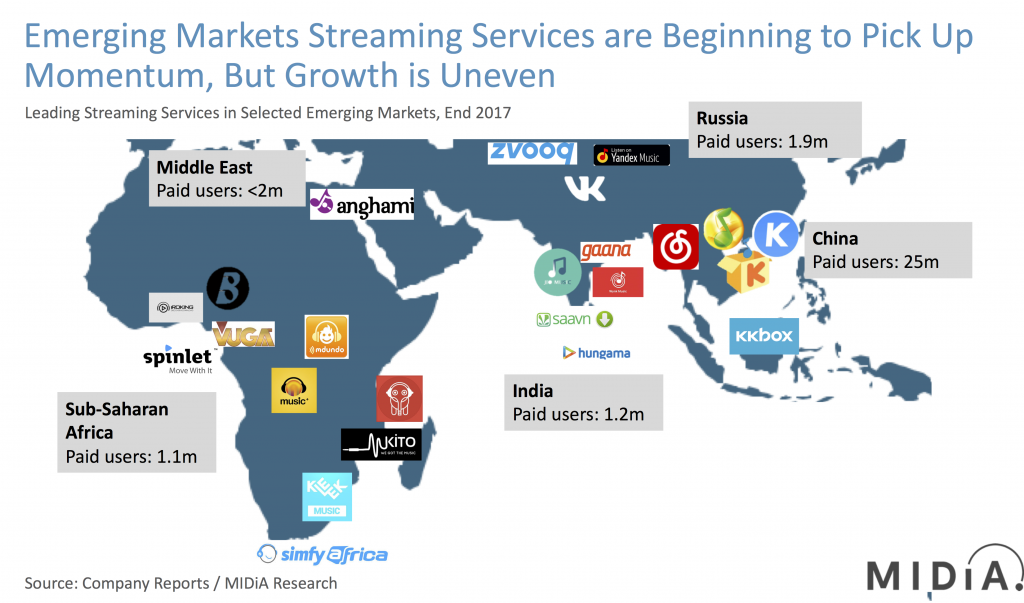 With streaming growth set to slow in mature western markets by 2019, the next wave of fast growth will come from a mixture of mid-tier markets such as Mexico, Brazil, Japan and Germany. The lower income mid-tier markets such as Brazil and Mexico are so populous that the urban elites have been big enough to generate paid user bases that are comparable to those of smaller European markets. The real scale opportunity, however, exists in monetising lower income groups with much cheaper propositions. Beyond that, the streaming market will need to look towards emerging markets for growth. Emerging markets in Asia and Africa present a diverse variety of opportunities, but current evidence suggests that the outlook for these markets is far from uniform.
The rule that defines emerging markets for streaming music is that there isn't one. China has a large base of free users and a solid base of subscribers. India has large numbers of free users, but a tiny paid base. Russia and the Middle East both have a solid ratio of free-to-paid users while Africa has the lowest per capita metrics for both paid and free.
Arguably, the single most important reason for these differences is mobile data network availability and affordability. In China and India mobile data use is increasingly widespread, making streaming a compelling proposition, while in most sub-Saharan African countries coverage is patchy and expensive.
Despite their differences, these regions will be crucial to the long-term outlook for streaming growth. So, mapping their respective trajectories helps to forecast long-term global market growth for streaming. Rights holders will need to innovate out of their comfort zone if they are to truly seize the emerging markets opportunity. The fact that Nigeria's MTN only gets a retail ARPU of around $2 a year across sub-Saharan Africa for its music products, including ringtones and downloads, hints at where ARPU expectations may have to be set.
Companies and brands mentioned in the report:Baidu Music, Gaana, Hungama, iRoking, Jio Music, Kugou, Kuwo, Mdundo, Mkito, MTN, MTN Music+, Mzliki, Netease Cloud Music, QQ Music, Quan Min K G, Saavn, Simfy Africa, Vkontakte, Vkontakte Music, Vuga, Wynk Music, Yandex, Yandex Music, Zvook
Trending