Facebook Has Got An Instagram Problem
Mark Zuckerberg dropped a bit of bombshell during the Q4 2017 earnings call. He announced that Facebook daily active users (DAUs) have fallen across some key markets, including the US. COO Sheryl Sandberg elaborated:
"In the US and Canada, these changes contributed to a DAU decline of 700,000 compared to Q3. We don't see this as an ongoing trend, but we do anticipate that DAU in this region may fluctuate given the relatively high penetration level."
Facebook attributed the fall to the newsfeed changes it has made to improve the quality of relevance of content users see, and to mitigate against trends such as fake news. While these will certainly have played a role, there is a bigger, more fundamental factor driving the decline: Facebook has an Instagram problem. Or, to be more precise, Facebook has a messaging app problem.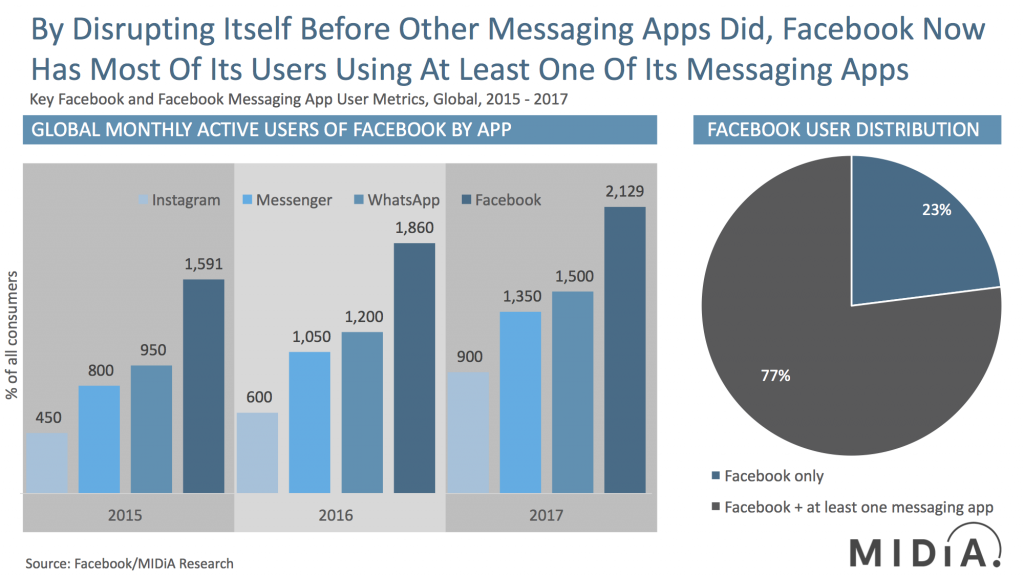 Messaging apps are the third phase of platforms on which digital audiences congregate. First came websites, then social networks and now messaging apps—which collectively accounted for 7.7 billion monthly active users (MAUs) at the end of 2017, up from 6.6 billion in 2016 and 5.5 billion in 2015. This is a massive segment that continues to grow at pace.
When the sector first started emerging, Facebook could have battened down the hatches and played a defensive hand. Instead, it did what the bravest companies do: it decided to disrupt itself before the competition did. The result: Facebook is now the global leader in the mobile messaging space, with a 2017 global market share of 49%, up from 43% in 2016 and 41% in 2015. It has done such a good job of transitioning its audience that 77% of Facebook's total audience now use at least one messaging app. But, the problem with messaging apps is that no one has really worked out how to monetise them yet. And that's a doubly big problem for Facebook because the more time that its users spend on lower monetised messaging apps, the lower the ad revenue yield. So, the more successful that Instagram and WhatsApp become (neither of which are included in Facebook's active user numbers) the worse off Facebook itself becomes.
Hiking ad rates hides the impact
Right now, Facebook has got enough velocity in its core ad business to absorb the DAU drop. Q4 ad revenue grew by 26% on Q3, only one percentage point less growth than it recorded one year prior. But, until Facebook gets better at monetising its messaging apps, ad revenue will increasingly feel the pinch. This is why Facebook spent much of its earnings call talking about how it is increasing the relevance of advertising, improving targeting and improving user experience, so that it can charge advertisers more. For the midterm, it will hide the impact of the messaging app shift.
Longer term though, Facebook needs a more robust solution. It cannot rush monetisation of its messaging apps as this will risk alienating users, especially in the more personal environments of WhatsApp and Messenger. Instagram will be the core focus of ad revenue growth, as this has already proven to be a natural home for branding. Facebook is also confident it will be able to build upon its initial base of business users of WhatsApp. All of this will take time though. So, it will need to be complemented with other efforts.
If it looks like a duck
Back in our November 2016 report 'Facebook The Media Company: If It Looks Like A Duck', we correctly predicted that Facebook would start to feel the impact of messaging app growth on its core platform. We also predicted that Facebook would start calling itself a media company, but that it would say it was a media company unlike any other. Sure enough, one month later that's exactly what Zuckerberg did.
There is a serious point to this analyst gloating though; Facebook needs its media company strategy to start paying dividends. It is busy finalising music rights deals and is building up its video arsenal. For music, expect (ad supported) music-based social communication to find a home in messaging apps. For video, expect the messaging apps to start acting as virtual TV programming guides and remote controls for what will likely be a semi-scheduled ad supported and premium video offering. As we said in our 2016 report:
"Media companies beware, there's a new player in town and it's betting big, real big."
This blog post is an excerpt from MIDiA's forthcoming report 'Facebook's Instagram Problem: Building Media Strategy In A Fragmented Audience World'.
Trending