How Netflix is Slowly Disrupting YouTube
One of the foundational cornerstones of monetising the digital economy is that there are two ways of paying for digital content: either with your wallet or with your attention. In the digital video streaming era, this has manifested itself in the division of business models into subscription video on demand (SVOD) streaming services, where content is accessed through a monthly paid subscription, and ad supported video on demand (AVOD), where streaming content is free to view and supported by in-video advertising.
Globally, two services dominate these two business models and associated user experiences. Since its 2007 pivot into streaming, Netflix has gone on to dominate SVOD, accounting for 24.5% of global SVOD subscribers in 2017. Since its launch in 2006, YouTube has become the AVOD hegemon, with two billion monthly active users at the end of 2017.
It would appear that both businesses have effectively cornered their markets without the need to directly compete against each other. However, as we increasingly move into the peak attention economy, continued growth for both services (a prerequisite for a public tech company) increasingly needs to come from other existing digital services.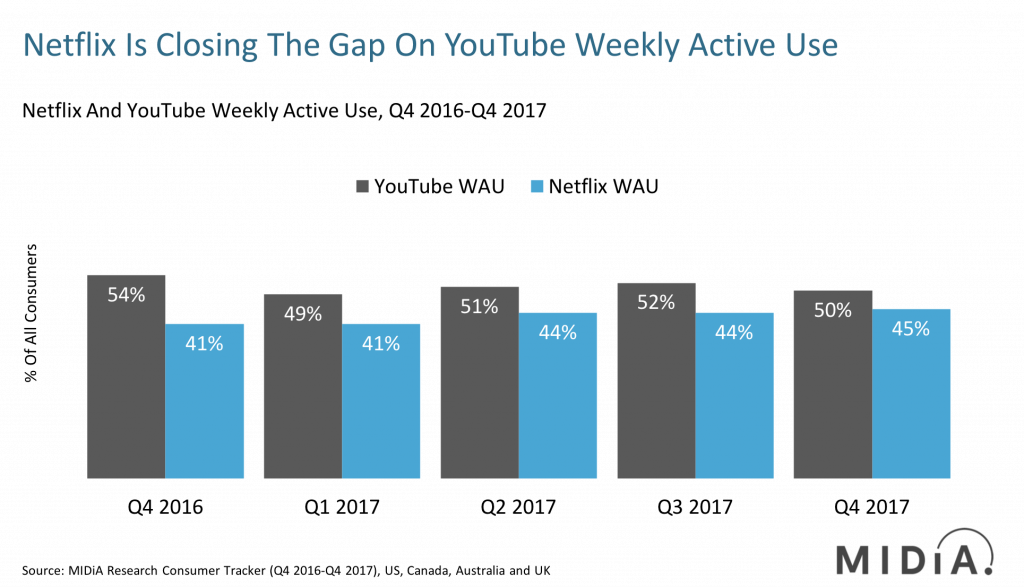 As the above data time series demonstrates, YouTube weekly active usage between Q4 2016 and Q4 2017 has been declining gradually over the same period that Netflix has experience sustained WAU growth. It is important to note that this MIDiA Researchconsumer data refers to the US, Canada, Australia and the UK­—all high-income and digitally sophisticated countries. In emerging markets, YouTube is still experiencing sustained growth in engagement, while Netflix's relatively high pricing places itself at a competitive disadvantage in emerging markets as it can only unlock the economic elites in those countries.
With digital engagement now optimised in developed markets, any growth in digital content consumption activity comes at the expense of an already existent digital consumer activity. If consumers are increasing their time spent on Netflix, it decreases their available time for YouTube video consumption, as both are now claiming the consumer's available video consumption time.
Streaming business models are being supplanted by user experience
The crux of the difference between YouTube and Netflix from the user experience view is content. Netflix in 2017 spent $ 2.9 billion on original content, compared to YouTube's $0.6 billion. Netflix is winning the battle for viewers because, not only is does it invest in licensing in premium third-party content ($8.9 billion spent in 2017 on streaming content), it also has the majority of the zeitegisty scripted drama shows, which are driving video engagement in developed markets. The fact that this content is behind a paywall is of secondary importance to the perceived value of the content for time-pressed consumers. The fact that Netflix content is ad free is bonus on-top of the already competitively-enhanced user value proposition.
As fellow FAANG member Facebook starts to transition into becoming a serious AVOD destination, it would do well to recognise that free-to-view only becomes competitively attractive when exclusive premium content is added to the user proposition, and, as Netflix can attest to, it is a very expensive market to compete in.
Trending