Is This The Last Broadcast TV World Cup?
The football World Cup – historically the world's biggest international sporting event by viewership, kicked off last Thursday (14 June) in Moscow, with host nation Russia dispatching Saudi Arabia 5-0. The World Cup is expected to be watched by 3.5 billion TV viewers, making it the most watched sporting event in history; the 2014 World Cup final match was viewed by an estimated one billion global audience. For comparison the Summer Olympics in 2016 had an estimated viewership of two billion. Like the Summer Olympics the World Cup is held every four years, which means that the current event is inevitably being compared to four-year-old TV consumer behaviour.
In the four years since 2014 the TV landscape has undergone unprecedented disruption, led by the rise of streaming video alternatives to broadcast TV. Nowhere is this shift more clearly displayed than through the evolving sports rights landscape, of which football is a key component. Football's most valuable league the English Premier League (EPL) in February of this year saw a contraction in rights values for the first time in 14 years, with a combined 13.2% decline in the value of the domestic rights. The two successful bidders for the main packages in February were British satellite TV operator Sky and British Telco and TV operator, BT. Both had smaller budgets at their disposable, due to trying to absorb a 70% EPL rights increase in the previous 2015–2020 deal. This was alongside the ongoing battle to maintain operating margins in the face of consumers abandoning pay-TV in favour of contract-free and much cheaper SVOD subscriptions. Furthermore, for the first time ever, an SVOD service this month picked up one of the domestic broadcast packages of live EPL rights for the 2019–2022 seasons.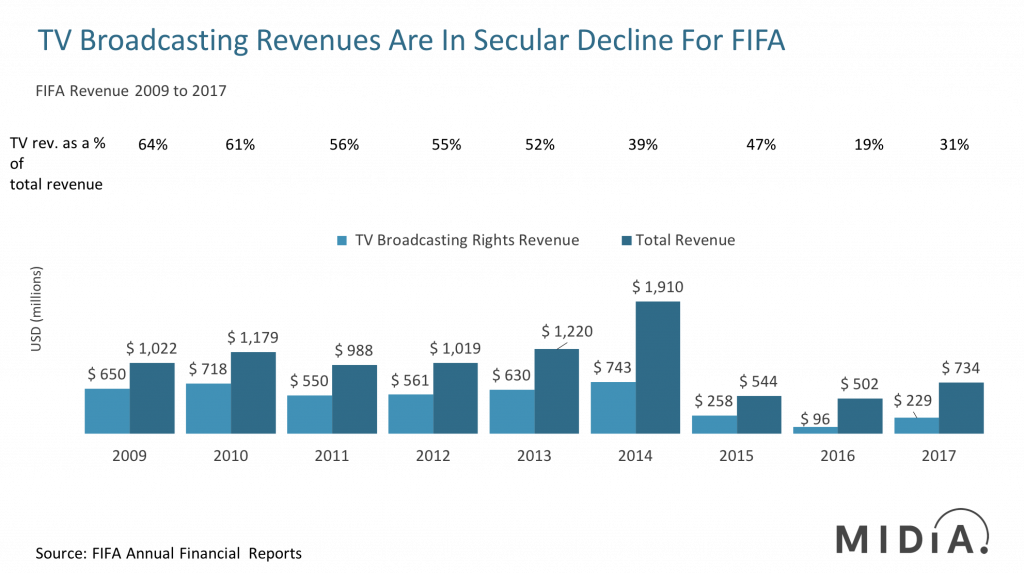 Unsurprisingly, FIFA, the world governing body of Football Associations, which also owns the broadcast and merchandise rights to the football Word Cup, has also been impacted by these shock waves coursing through global sports consumption. TV broadcast rights revenues as a percentage of overall FIFA revenues are down from 64% of total revenues in 2011 to 31% of total revenues in 2017. During this period of time there have been two World Cups, one in South Africa, 2010, and in Brazil, 2014. As FIFA's revenue predominantly revolves around the world cups, this is an important caveat: overall revenues per world cup is increasing, but the share of revenues which are derived from TV broadcast rights are decreasing. In 2010 FIFA generated $718 million in TV broadcast rights revenue. In 2014 it generated $743 million in TV broadcast rights revenue – a nominal increase of 3.5%, but only an increase of 1.7% when adjusted for inflation. At the same time, overall World Cup revenues increased from $1.179 billion in 2010 to $1.910 billion in 2014 – a nominal increase of 62% over the four-year period and an above inflation increase of 60.3%
Is 2018 the last broadcast TV World Cup?
All told, the prevailing trend away from broadcast TV in world football raises the intriguing possibility that we could be on the threshold of the first post-broadcast TV world cup. If this is the case then the next few weeks of sporting activity being played out in the expanses of European Russia could be about much more than merely which team gets crowned world champions for the next four years. The very way football viewing is monetised could also be up for grabs.
Trending