Join Us At 'Radio Is Streaming's Next Frontier'
I'm very pleased to announce that MIDiA is hosting a special industry event on Wednesday 7th February at Gibson Brands in central London, in partnership with 7digital. The event 'Radio Is Streaming's Next Frontier' is going to explore how in 2018, streaming music is going to start impacting radio just like it has spent the last few years replacing downloads. Streaming spent the first phase of its life being the future of retail, it will spend the next phase becoming the future of radio.
In this free-to-attend event we will present some of our latest research, including exclusive data, ranging from big picture trends through to tactical data, such as exactly how much each streaming service is affecting each radio station.
In addition to my research presentation there will be panel discussion from industry experts:
Is Streaming and Radio a Zero Sum Game?
Moderator: Zach Fuller
Panellists:
Jeff Smith: head of Music, Radio2 and Radio6

Pete Downton: deputy CEO, 7digital

Chris Baughen: VP Content and Formats, Deezer
After all this there will be drinks and networking. The event was publicised to MIDiA clients and newsletter subscribers first so there are only a few places left. So, RSVP your slot here now!
Hope to see you there, and watch out for a sneak peak of some of the research soon.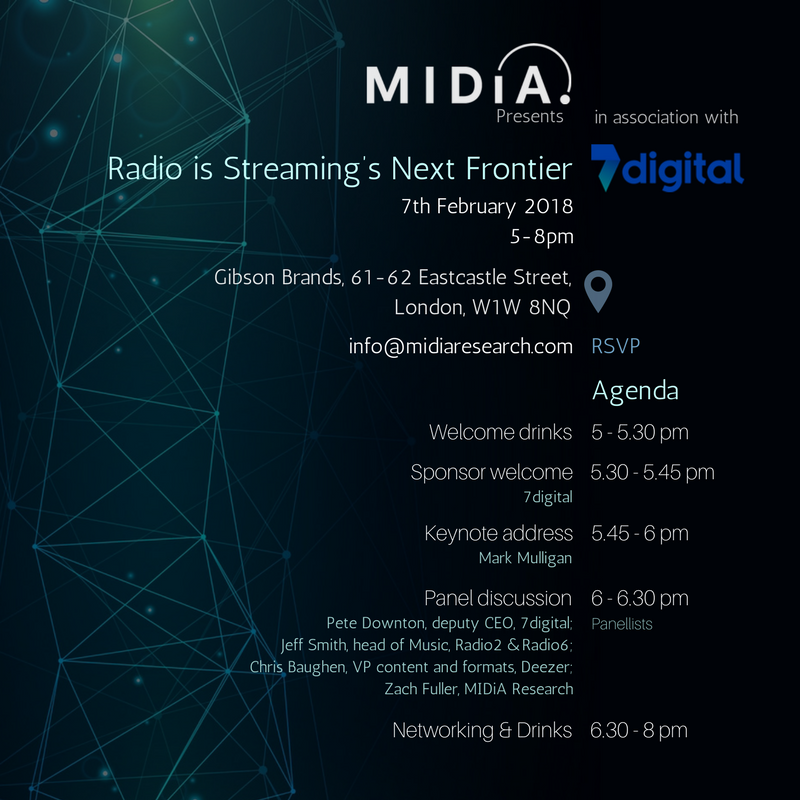 Trending