Netflix Q1 2018 Results: Hiking Prices or Fighting Churn?
Monday saw another solid Netflix earnings call as the preeminent subscription video on demand (SVOD) service continues its seemingly inexorable rise to global dominance. Year-on-year (YoY) revenue growth was an impressive 40.4%, with the operating income increasing from $257 to $447 million on revenues of $3.7 billion, compared to $2.6 billion in Q1 2017. At the same time, total paid subscriptions increased to 119 million – a YoY increase of 26%. Domestic (US) paid memberships increased to 55 million – a 5.7% YoY increase. However, international paid memberships increased to 64 million – an 18.8% annual increase. This means that Netflix grew its international paid subscriber base 3.3 times as quickly as its domestic paid subscriber base. As Netflix had reached 49% weekly active user (WAU) penetration among US consumers by the end of Q4 2017 (source MIDiA Research Q4 brand tracker survey data), the company can now only meaningfully grow by adding international subscribers. But can it?
The alternative, which was mooted on the Q1 analyst call, was to consider price rises.  Responding to an analyst question around considering new price increases Netflix CEO Reed Hastings stated:
"Well, it really depends on the offering; the quality of our offering relative to others. So, you have to earn it first by doing spectacular content that everybody wants to see. But if you do that, you can get people to pay a little bit more because then we're able to invest more and further improve. But we always approach it on a "have we earned more viewing from people" basis first rather than a price-first basis."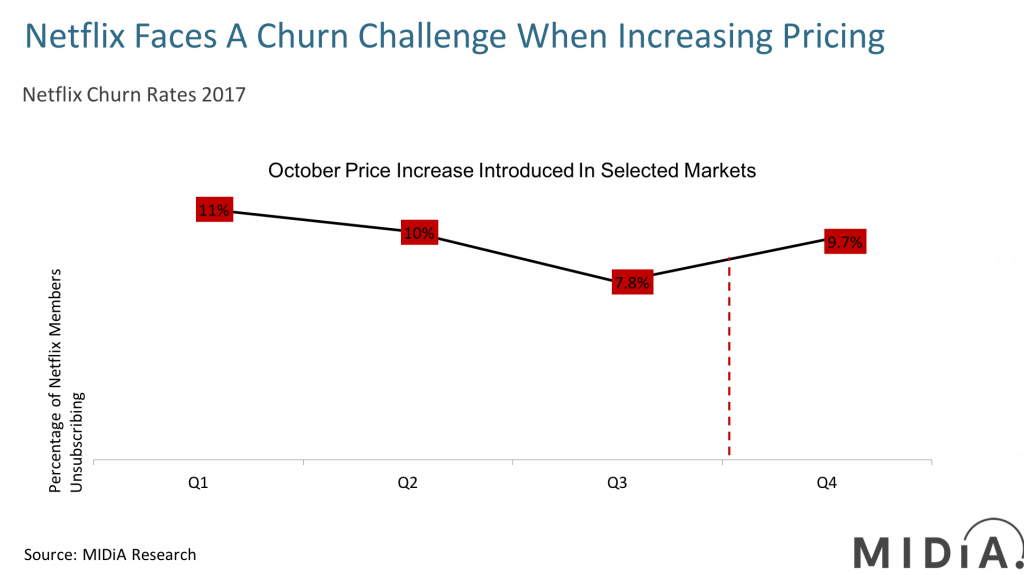 As the above chart demonstrates Netflix has made noticeable improvements in reducing its churn rates for 75% of 2017. Between Q1 2017 and Q3 2017 it reduced its churn rate by 3.2%. However, in October when it introduced its first subscription price increase for three years, there was a noticeable increase in users unsubscribing from the service in its core markets. As a direct result of the 10% price hike overall churn rates increased by 1.9% to 9.7%. This translated into a net increased loss of $54.6 million for a projected gain of $158.1 million in subscription revenues based upon existing Q3 paid subscriptions. So, cumulatively Netflix increased its revenue base by $103.1 million, or 3.6%.
So, in pure financial terms increasing subscriptions pricing in Netflix's largest markets is currently paying off for the SVOD service. However, the public relations aspect of such a decision needs to be carefully managed so that price elastic subscribers (i.e. members who are not currently anchored to a specific entry level subscription price point) are informed about the increased net benefits, as opposed to the increased costs of subscribing to what remains an supplementary video service, rather than a substitution for traditional pay-TV in Netflix's core markets.
Trending