Not All Originals Are Created Equal
As the world shifts closer to becoming a digital video landscape, the 'original' has become a key part of the value proposition for subscription video on demand (SVOD) services as they battle for market share. SVOD services initially commissioned original scripted drama to lure pay-TV audiences to on-demand viewing, with heavily discounted alternatives to expensive pay-TV subscription packages. What started out as a sales promotion exercise has morphed into a customer retention tactic, as the SVOD services approach mainstream penetration levels and find themselves competing directly with each other to retain fickle subscribers.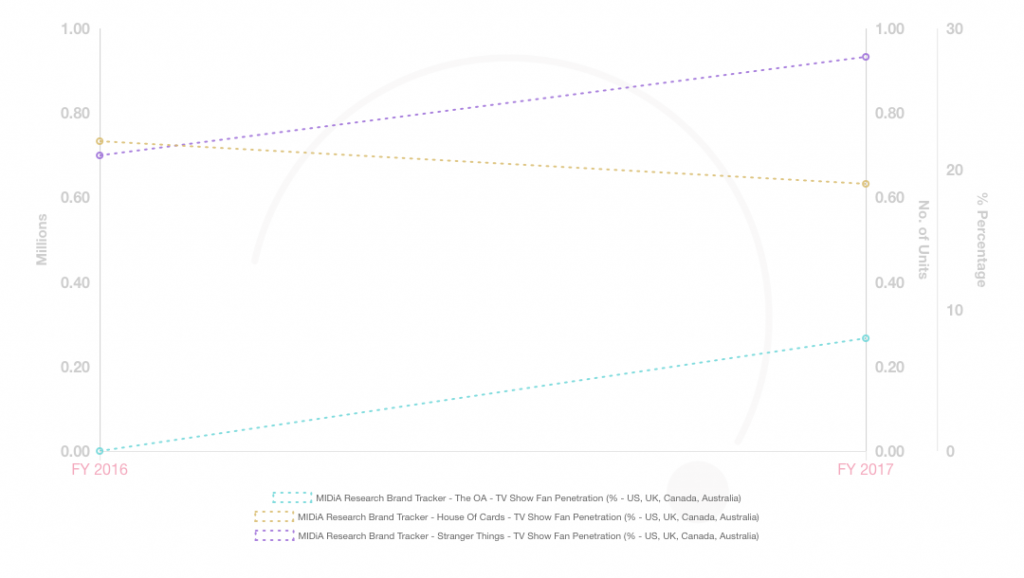 The above chart has been created on MIDiA Research's Fuse data tool. It depicts fandom for Netflix's House of Cards, The OA, and Stranger Things, tracked over the five quarters from Q4 2016 to Q4 2017. All three shows were original commissions for Netflix where the SVOD major directly commissioned a production company and showrunner to create a scripted drama original for a specific niche audience on the service. All three became poster productions for Netflix, with House of Cards—with a $100 million budget and signing of big name director David Fincher to lead the production, being the group's first big-budget foray into original content. Fincher, whose film credits include Seven, The Girl With The Dragon Tattoo, and Gone Girl, figured that his reputation was on the line and he would need to deliver a production up to his exacting standards. House of Cards was chosen to super serve political thriller and Kevin Spacey fans (which helps to explain the steady decline in fandom registered over the last year.)
The OA which is an idiosyncratic horror, thriller, sci-fi hybrid was Netflix's attempt to replicate SVOD rival Amazon's success with commissioning hard to categorise genre-bending productions with too much nuance for mainstream audiences, but which super served specific demographics. In Q4 2017 64% of OA fans were 25–44 year olds, which contrasts with House of Cards where 39% of its audience were aged 45-plus.
The Duffer Brother's hybrid adventure /horror series Stranger Things has been an unexpected 2017 breakout success for Netflix. Originally commissioned for nostalgia yearning 40-plus year olds, the show's largest fandom by distribution in Q4 2017 was in the 25–34 age range, which accounted for 28% of the entire audience. Stranger Things is a rare example of targeted niche production breaking out to appeal across demographics.
Currently, SVOD is firmly in the market share land-grab phase of its development and as such, content variety is as important as breadth of appeal. To this end Netflix CFO David Wells stated last month that the service would be commissioning 700 original series this year. An output of two new shows per day is clearly beyond the ability of any individual Netflix subscriber to commit to watching and effectively means that the increasing divergence in Netflix audience fandom can be expected to continue. However, once the current content bubble starts to deflate (Netflix's $8 billion content budget in 2018 is a 15.9% increase on its 2017 budget) Netflix and the other surviving SVOD services will need to start introducing a higher level of financial probity against expected audience engagement, to justify their return on investment to the financial markets who are effectively underwriting  the commissioning process.
For now however, the scripted drama bonanza will continue and there has never been a better time to be a show-runner or drama show fan.
Trending