The Sports Bubble Has Finally Burst for The English Premier League
Yesterday the English Premier League (EPL) announced the winners of its triennial domestic TV broadcast rights. As expected the two incumbent rights holders (Sky and BT) retained their privileges to cover the competition domestically. Crucially however, both bidders paid deflated amounts for the rights this time around. UK pay-TV titan Sky paid 14.3% less for its business-critical rights, meanwhile telco TV operator BT paid 7.8% less. The combined total paid was £4.47 billion, representing a 13.2% decline on the 2015 rights auction, which went for £5.14 billion for effectively the same rights — with minor adjustments (Sky added two matches to its annual coverage and BT actually reduced its coverage from 42 to 32 matches.)
2018 was therefore a pivotal moment in the Premier League's 26-year history where the nominal monetary value of its core domestic product has declined in value for only the second time in the league's history.
Why the bubble has burst for the Premier League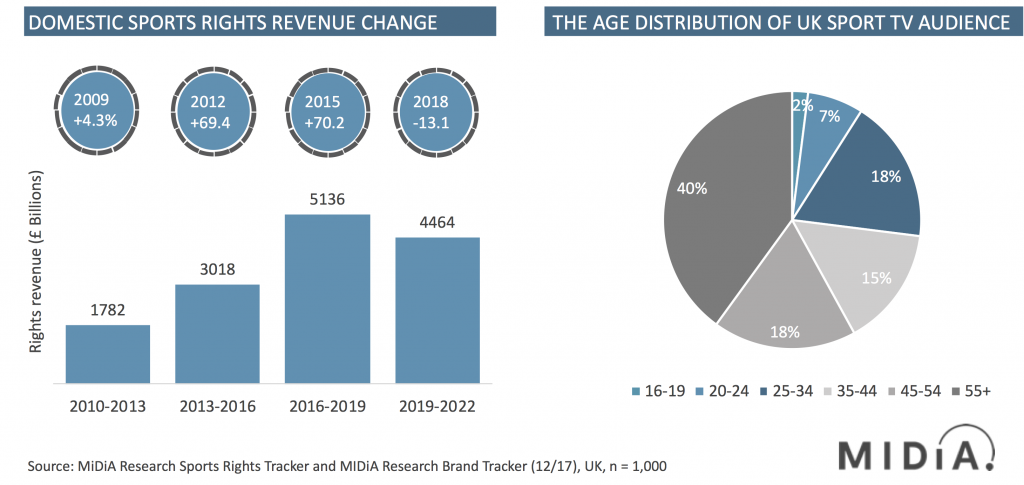 In the previous seven auctions the EPL has successfully increased the value of its domestic broadcast rights in all but one auction, in 2003. Sky — which was at the time called BskyB — successfully retained the rights to all the EPL matches from the previous auction round. So while yesterday's 13.1% decline in the valuation of the domestic rights was noticeable, it has happened before. The difference now however, is twofold. Firstly, the EPL failed to sell two of the seven broadcast rights packages as the offers did not meet the reserve price. Secondly, the notable absence of digital first participants such as Amazon and Facebook underlined the structural weaknesses of a rights structure which has been built to favour a declining incumbent pay-TV model over an insurgent streaming model.
The reason why no digital first service is serious about acquiring the remaining midweek (and one bank holiday ) fixtures in package F and package G is because they are both overpriced for the return on the investment for a streaming service and, crucially, restricted to a UK only audience. For context, Amazon paid $50 million for Thursday night NFL matches because it was acquiring the digital rights, which allowed it to grow its domestic appeal and also add a sports asset for its increasingly international Prime membership audience. A £432-£663 million price tag for the three-year rights to these matches is too extravagant even for the tech majors to expend on one single market.
The sports and demographics time bomb
The other elephant in the room around the deflation in the EPL domestic rights valuation is the collapse in demand among younger audiences in the UK. Only 2% of 16–19 year olds now regularly watch sport on TV and only 7% of 20–24 year olds, while 58% of the UK TV sports audience are now aged 45-plus. As this demographic cohort are the primary bill payers for Sky and BT, the dwindling appeal of TV sports for younger audiences has locked in the secular decline of the current pay-TV sports model.
The liberation from the linear broadcasting straight-jacket has effectively repositioned sport as a premium, yet niche, part of the video landscape. Yesterday's EPL auction was a salutary reminder that the old model is crumbling and needs to be restructured for a digital audience with global reach built into the rights deals.
Trending