2023 MIDiA predictions
Pivot point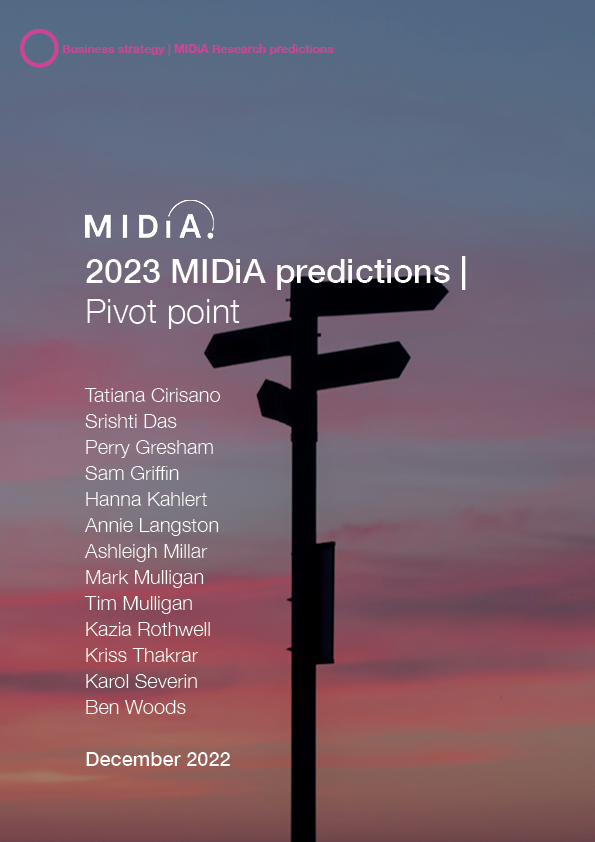 Our clients have full access to all of our reports. Clients can log in to read this report. Click here to become a client or, you can purchase this individual report.
20,000 foot view:  In this report, MIDiA Research analysts present their predictions for what will be the big trends in digital media and tech across music, video, games, marketing, audio and cultural trends in 2023 and beyond. 
Themes for 2023:
Cost-of-living crunch: Entertainment spending will weaken, but some formats will fare better than others
Perceived value will be king: As economic conditions worsen, consumers will seek out better value for money, not just ways to reduce spend
The end of disruption: Following two decades of disruption, consumer tech is entering a 'holding' phase, accentuated by the economic downturn
Scarcity revival: The post-lockdown thirst for 'in real life' (IRL) experiences will combine with digital fatigue to place a new premium on scarce, IRL experiences in 2023
Community repurposed: The value of community will come to the fore in 2023, as entertainment increasingly becomes scene-led
The rise of the moment: The immediacy of 'now' will find its fullest expression in social and music fusion in 2023
The forking of culture: Cultural intermediaries will provide access to subscenes for larger audiences
The authenticity crisis: In an era of replication, authenticity will stand out
The decoupling of global distribution: A changing geo-political landscape is turning back the clock on a vision for global markets in entertainment.
Social media and games will eat entertainment: Games are poised to make the transition to the cultural centre ground in 2023
The year of the creator activist: Creators fuelled the digital-entertainment economy, now they are poised to rebel 
The algorithm becomes the focus group: Like the wider digital world, entertainment in 2023 will be shaped by the almighty algorithm
Companies and brands mentioned in this report: Amazon, Apple, Bandcamp, BeReal, Brittany Broski, ByteDance, Camilla Cabello, Disney, Disney+, Dreamlight Valley, Drive to Survive, Discord, Google, HBO Max, James Charles, Meta, Michael Jordan, NBA, Netflix, Paramount+, Peacock, PlayStation, Shorts, Star Wars, TikTok, the Economist, the New York Times, Tiger King, Twitch, Twitter, Xbox, Xbox Game Pass, YouTube, YouTube Music, Zoom