COVID-19 and the Vulnerability of Pure Play Sports Streaming Services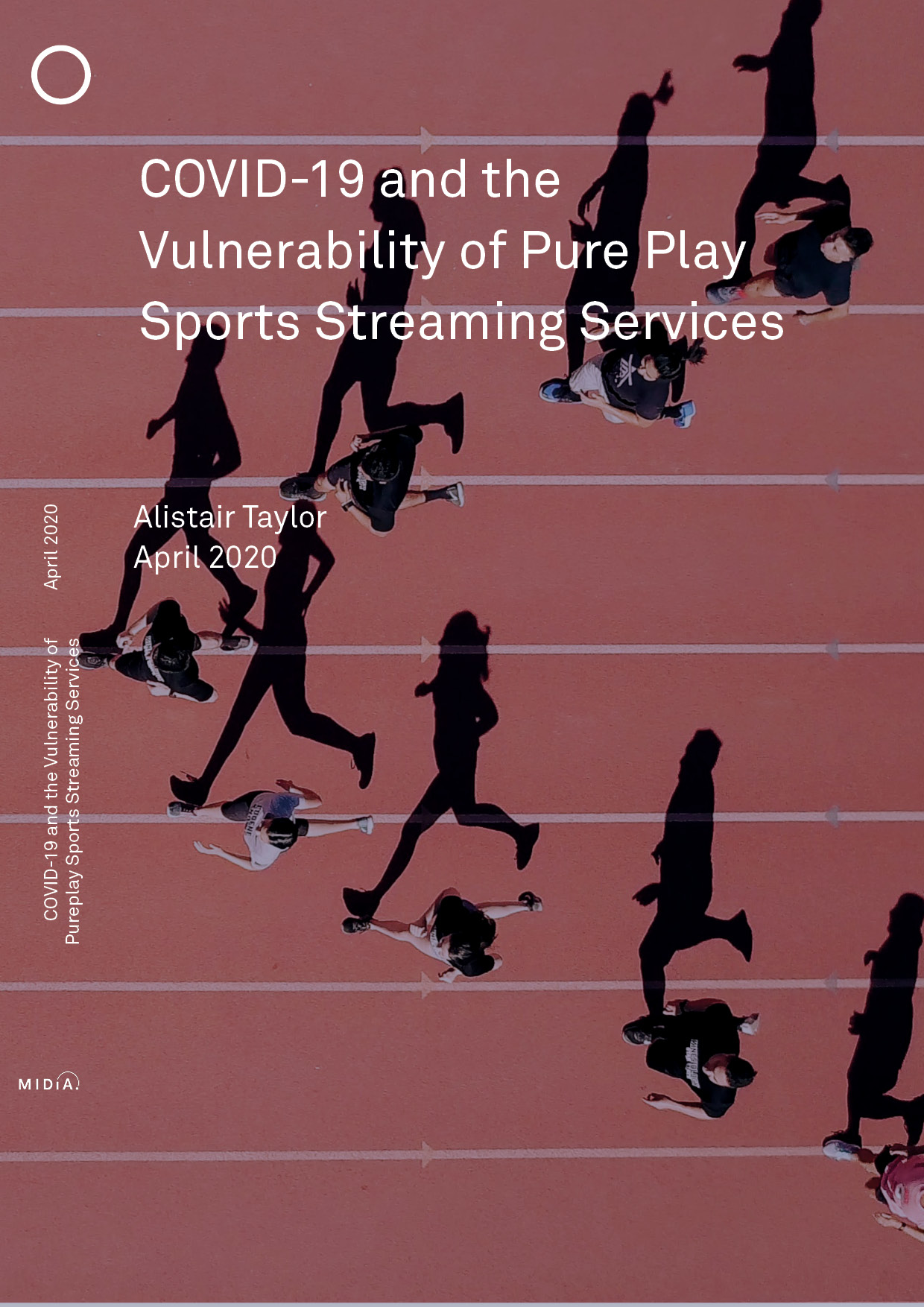 Our clients have full access to all of our reports. Clients can log in to read this report. Click here to become a client or, you can purchase this individual report.
The 20,000 Foot View:  The postponement of annual competitions and  major quadrennial events has highlighted just how heavily pay-TV and sport-centric streaming services'  value propositions rely on live sports. Filling schedules with re-runs, docuseries, interviews and archived footage are stopgaps unlikely to increase engagement. Justifying a sports video streaming subscription is now tougher for consumers than ever. In the saturated attention economy, sports streaming services now face increased competition for audience attention and the coronavirus global pandemic leaves them particularly susceptible to subscriber churn. Streaming insurgents that overextended in securing now-dormant rights will have an even harder time recouping these investments in the face of an impending economic downturn.
Key Insights
of consumers across the US, UK, Canada and Australia watch live sports 
Watching sports live has

more penetration than the second-highest sports consumption activity (attending events and watching sports highlights)
Rights holders and broadcasters need more content on social platforms to extend reach;

of consumers watch sports highlights on social media, four points lower than on TV
Sports is helping to drive Amazon's user acquisition; its English Premier League (EPL) coverage pushed UK WAU penetration to

in

2019, up from

from

2018
Pure play sports streaming apps are niche: in

2019 in the US, WAU for ESPN+, DAZN and Flosports was

and

respectively
Sports appeal is niche, with an average of

watching sports monthly –  more than

points below  film and comedy
Sports under-indexes among streaming users: sports is the ninth-most consumed genre among SVOD subscribers; seventh for all consumers
NBCUniversal's big sporting bet is off; Peacock deferred

billion in advertising inventory for its exclusive US coverage of the postponed 2020 Tokyo Olympic games 
Kayo sports is the leading sport-centric streaming service in Australia for weekly engagement, yet has a subscription penetration

smaller than Netflix
Canadian consumers report the second-lowest penetration for holding three or more digital subscriptions at

above only Australia at

in

2019

of consumers would reduce spend on a pay-TV subscription via cutting movies or sports packages from their subscription during an economic downturn
Companies and brands mentioned in this report: 2020 Tokyo Olympics, Amazon, Amazon Prime Video, Apple, Bundesliga, Comcast, COVID, Crave TV, DAZN, Discovery, Disney, Disney+, Ditto TV, Eleven Sports, EPL, ESPN, ESPN+, Eurosport Player, Facebook, FIFA, FloSports, Foxtel, GolfTV, illico.TV, Intsagram, iRacing, Kayo Sports, La Liga, Madden, MediaPro, MLB, MLS, MLS, MOTD, Nascar, NBA, NBCUniversal, Netflix, NHL, Peacock, Serie A, Six Nations, UEFA Euro 2020, UFC, US Masters, WWE