DAZN 2019 Financials and Subscriber Deep Dive
Domestic Rights Key to Unlocking Audiences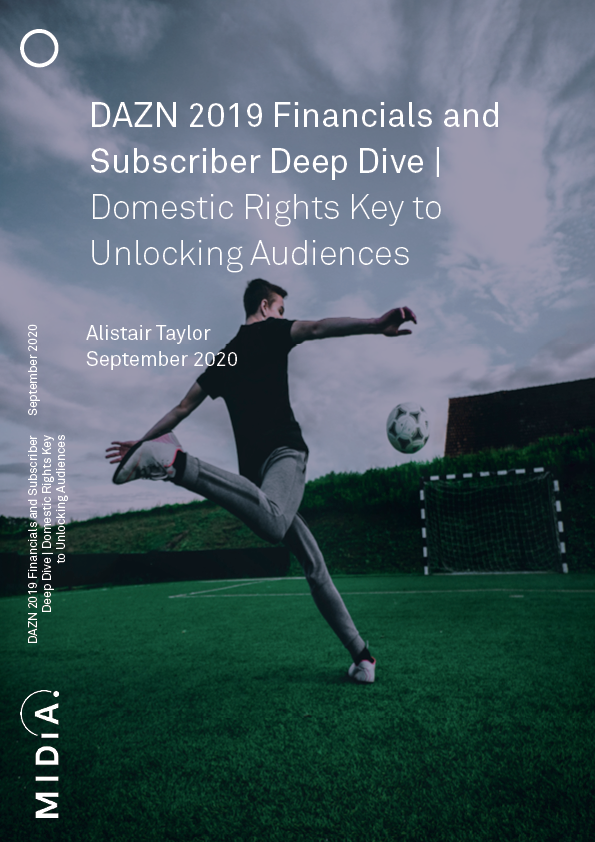 Our clients have full access to all of our reports. Clients can log in to read this report. Click here to become a client or, you can purchase this individual report.
The 20,000 Foot View:  DAZN's 2018 financials highlighted the difficulty in encouraging consumer adoption of a digital live sports proposition with a limited portfolio of sports rights. 2019 marked a year of consolidation and growth. DAZN learnt quickly that without premium domestic content it is difficult to penetrate competitive markets effectively. This report presents key figures from MIDiA's DAZN revenue and subscriber model. The full dataset is published alongside this report, with results across its nine markets of operations, additionally including quarterly consumer data reported in MIDiA's proprietary survey.
Key insights
2019 was a year of strong growth for DAZN, with revenues increasing

year-on-year from

million in 2018 to

million in 2019 and subscribers up

Contributing to this growth was the successful launch of DAZN in its eighth and ninth markets Spain and Brazil
DAZN's leading market, Japan, accounts for the largest share of revenues

with

million, with

million subscribers accounting for

of its global base 
DAZN's Italian operations accounted for

of company revenues, up

on 2018 to

million in 2019
In

2019,

of Italian consu mers watched Serie A, driving DAZN's weekly average user penetration to

with

of DAZN subscribers watching Serie A 
DAZN's US revenues grew

in 2019, accounting for just

of global revenues
DAZN's leading market for subscribers in 2019 was Japan with

million subscribers, accounting for

of its global subscriber base
DAZN's German operation is the most likely to show the strongest resilience during the pandemic due to its growing portfolio of premium domestic content
With J-League rights in Japan, Serie A in Italy and a burgeoning German proposition, DAZN is becoming a compelling choice for sports fans as we approach 'D-day' for sporting rights in 2021
Companies and brands mentioned in this report: Access Industries, Bayern Munich, BT, Bundesliga, DAZN, Financial Times, Golden Boy Promotions, J-League, Matchroom Sports, MLB, NFL, Perform Group, Serie A, Sky, Sky Deutschland, UEFA Champions League (UCL), UEFA Europa League, UEFA Nations League, Warner Music
INTRODUCTORY NOTE
This report showcases the data from MIDiA Research's DAZN revenue and subscriber model (a full dataset is published alongside this report). The data refers to full-year 2017 to 2019. Therefore, impact is not reflected in these numbers. This pre-COVID picture reflected a strong growth year for the streaming service, having launched in several new markets in 2019 and building out compelling value propositions in existing markets supported by acquisitions of premium domestic rights. While the early indications are that subscriptions have proven to be relatively resilient during lockdown, the pandemic-enforced postponement of live sports has hit sport-centric services the hardest without meaningful content to provide to subscribers, subsequently presenting a significant risk that growth may slow (and even decline) in 2020, with churn increasing during the recession.