Discovery and Measurement
Challenges For Content Producers In The SVOD Era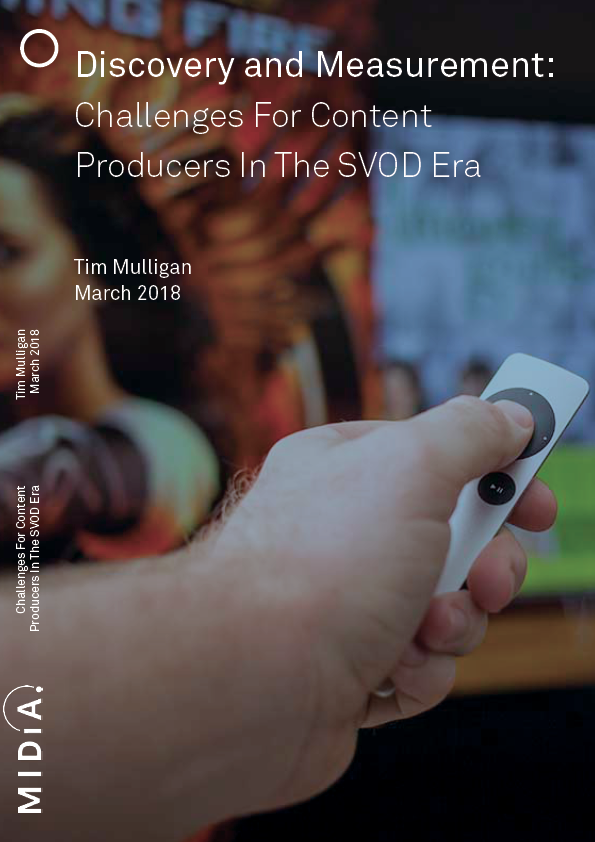 The 20,000 Foot View:  Streaming video consumption continues to accelerate, still adding users in more mature markets and expanding at pace in emerging markets. Though the mix of value propositions and business models is diverse, the unifying theme is that power is shifting from traditional stakeholders to new players. Rule books are being rewritten as quickly as relationships are being redefined. 
As with any consumer technology growth phase, audiences have unprecedented choice due to new entrants competing fiercely for their attention and spend. They are providing them with new ways to discover and consume, which in turn is changing viewing behaviour. 
In stark contrast to the content choice given to audiences, streaming services are highly protective of their data to ensure they retain the upper hand in negotiations. This often means measurement has to be rethought from the bottom up. Meanwhile, just as streaming services start to acquire a degree of industry familiarity, messaging apps are fast emerging as the next big audience engagement platform, threatening to rewrite the just-rewritten rule book.
Key Findings
The subscription

on demand (SVOD) unbundling effect

that consumers have to navigate

services, user experiences and billing

The proliferation

Over The Top (OTT) services

led to the paradox of

TV consumer having a surplus

choice
Streaming services

a central, coordinated discovery experience,

the tech majors could fix

by becoming meta services 
Apple and

have already made moves towards

As users

more time with streaming services,

gradually shifts from lean-forward to

Algorithms and

will continue to do the

lifting for streaming discovery, but

opportunity exists for a bigger

component
Streaming video

of total viewing time, rising

for pay-TV subscribers and

for

users
Audience fragmentation

with streaming services' tight control

data is creating an existential

for audience measurement
Lack of

gives SVOD services negotiating leverage
Remnant linear

are increasingly skewing towards specific

of viewing, while SVOD services

acquiring viewing time of the

engaged viewers
Netflix users

index for Comedy, Action &

and Horror, but under index

Wildlife, News and Sport
Companies and brands mentioned in this report: Amazon, Apple, Facebook, Google, Netflix, Nielsen