Friction TV
Addressing the user experience disconnect in streaming TV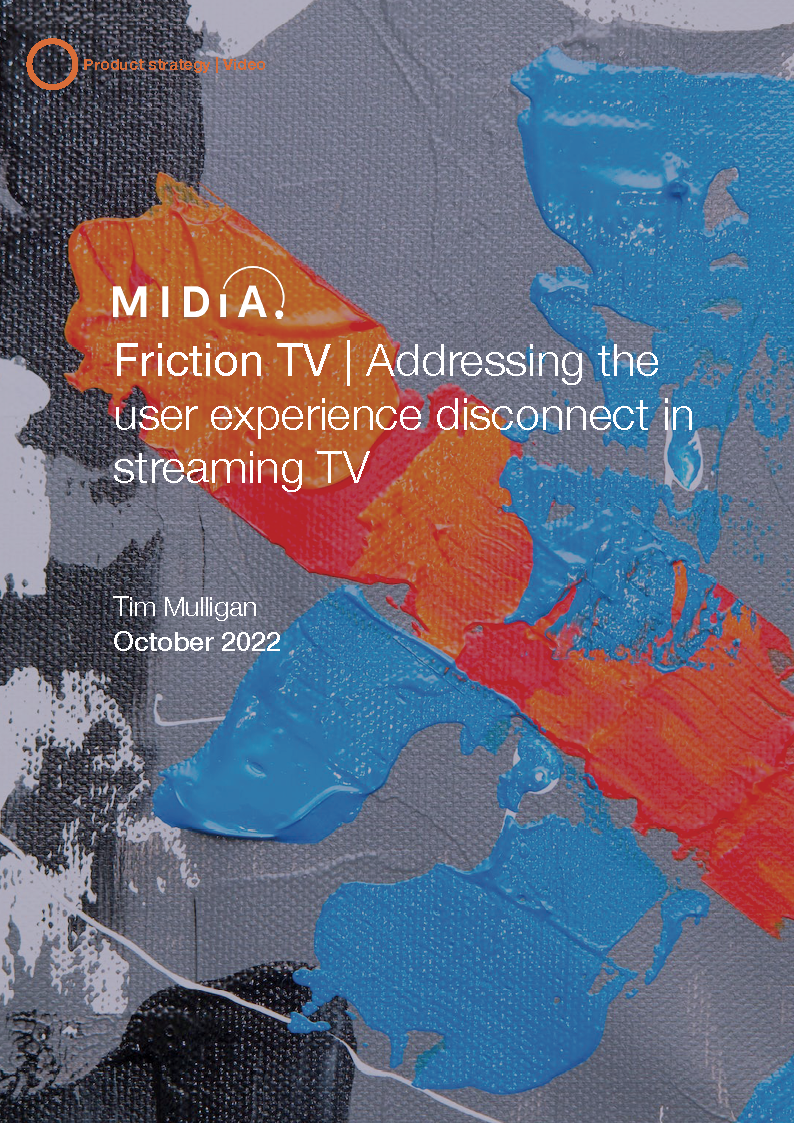 Our clients have full access to all of our reports. Clients can log in to read this report. Click here to become a client or, you can purchase this individual report.
20,000 foot view:  Streaming TV is now the default way to consume TV content. However, the streaming TV era is now the friction TV era, due to the fragmented nature of the direct-to-consumer siloed, competing brands. Consumers require multiple services with different user experiences to engage in the full range of TV content previously available in one ecosystem. Short of reaggregation, cross-silo content discovery and curation experiences are now essential to take the friction out of the streaming TV user experience, with the next evolution of the screen (e.g., virtual reality and the self-driving car) to follow over the subsequent five years. 
Key insights 
In

2022,

of consumers relied on personal recommendations for new TV content
This discovery crisis is at its most extreme among younger demographics who over-index for personal recommendations, highlighting a growing 'discovery crisis'
The discovery crisis is fuelling a sense of frustration because of the lost time spent searching for watchable content
The emergence of streaming TV as a mainstream proposition means that the

user experiences need to be bound together
Currently, service user experience alternatives lag behind personal recommendations for content discovery
With fragmentation remaining unsolved, virtual reality (VR) and autonomous vehicles are gearing up to become the next screens in search of a user experience solution – exacerbating the current user experience crisis
Companies and brands mentioned in this report: Apple, HBO Max, Meta, Netflix, Paramount, Paramount+, Peacock, and Reality Labs.