Paid News Digital Subscriptions
Bubble or Breakthrough?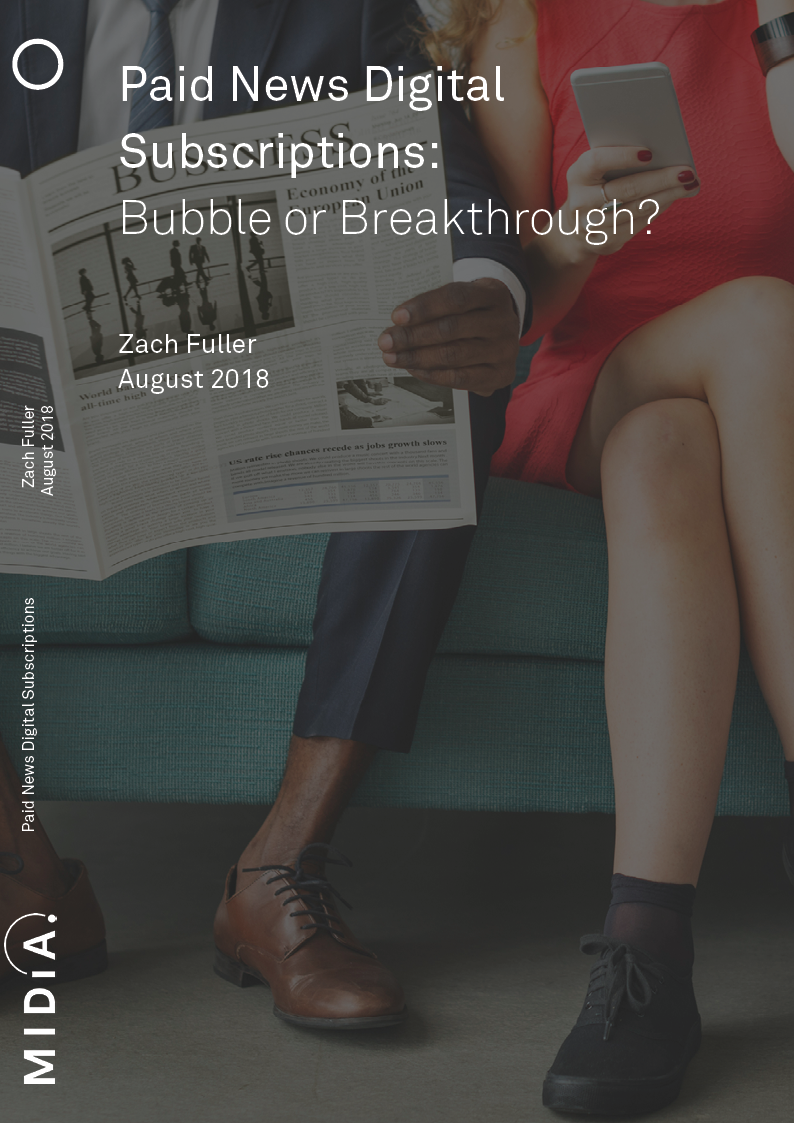 Our clients have full access to all of our reports. Clients can log in to read this report. Click here to become a client or, you can purchase this individual report.
The 20,000 Foot View:  Still feeling imbued with the often cited 'Trump bump', paid news media subscriptions continued their healthy growth trajectory throughout 2017 and into the first quarter of 2018. The market, excepting China and India, grew largely in symmetry with other digital behaviours, as premium news brands continued to make their case as a credible alternative to the clickbait-centric news feeds of social media. However, much like the growing pains of the traditional formats in video and music, news's older print user base means subscription growth will not be linear. This has been exemplified by the decline in growth rates of major titles since 2017, the shift from a fractured market to a longer tail, fewer dominant titles and the problem in converting an older user base to paid subscriptions. Certain titles such as the Washington Post are also artificially experiencing a boom due to the influence of bundle deals, resulting in the growth of paid subscriptions.
Key Findings
Premium news added approximately

million paid digital-only subscribers throughout 2017
Premium subscribers now total

million,

2018
The most successful premium news service is the Washington Post, growing by

in 2017, attributable in part to the bundling effect of Amazon Prime

of consumers subscribed to multiple paid content services across online video, music and news in 2017
The number of paid premium news subscribers grew

in 2017

of premium paid digital subscribers only joined in the prior

months; for comparison,

of Spotify's subscribers joined in the prior

months
Companies and brands mentioned in this report: Alphabet, Axel Springer, Bild, The Economist, Facebook, Financial Times, Google, The Guardian, Nikkei, Le Monde, The New York Times, Read.ly, Washington Post, Wall Street Journal, The Telegraph, USA Today, Die Welt