Re-creating the creator economy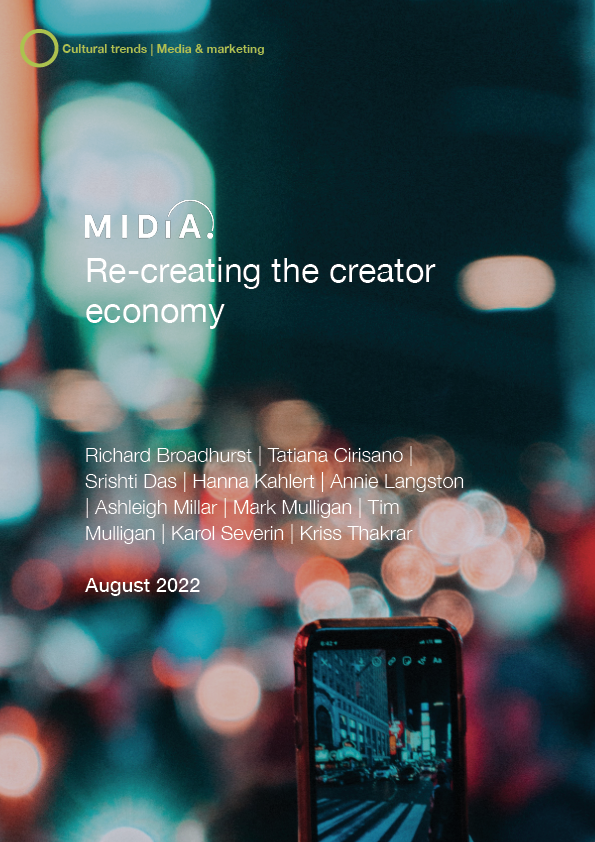 Our clients have full access to all of our reports. Clients can log in to read this report. Click here to become a client or, you can purchase this individual report.
20,000 foot view:  Streaming first democratised the means of consumption, then distribution, and now production. Though the promise of the long tail may not have materialised quite as expected, long-tail and mid-tail creators are now a central component of the digital-entertainment economy. Their role will augment further, propelled by meta trends, such as the emergence of creation as entertainment, the fragmentation of fandom, and the growing prominence of micro scenes.
Key insights 
Social platforms are redefining entertainment value chains, using audiences for content creation, distribution, and consumption, thus making creators the fuel for the digital-entertainment engine
Creators are defined by shared characteristics, such as being creatively and financially independent, owning their own rights and pursuing success
Audiences are becoming creators too, with

doing some form of content creation and

using creation tools in social platforms. Only

of consumers only ever passively consume content
Creators are having to define their behaviours based on the demands on the platforms, resulting in being 'always on', and independence carries many burdens
There is a platform / creator tension: platforms monetise scale pooled from individual creators, but creators want remuneration and recognition 
Platforms must perform a cultural balancing act between serving the needs of their audiences and of their creators
Creators have platform dependence – merely renting space, rarely with tenancy rights, and often at the whims of algorithms
Music creators have enough distribution and platform options, and what they really need now are more ways to find and build their audiences
Sustainable remuneration is a recurrent issue, with many social video apps and many creators being openly critical of the perceived lack of transparency
Discoverability is the key challenge for podcast creators, with a number of platforms making moves to address this
Social media marketing has U-turned audiences from observation to participation
Sports stars are using creator platforms as a way of extending their brand reach and discovering new audiences
Companies and brands mentioned in this report: Acast, Amp, Amazon, Amazon Music, Amazon, Apple, Bandcamp, Buzzfeed, Buzzfeed Unsolved, ByteDance, Case Closed with Bailey Sarian, CDBaby, Cem Bolukbasi, Chargebee, Charlie Puth, Devon Cole, Disciple Media, Discord, Drive to Survive, Distrokid, Facebook, Fortnite, Haters Back Off, Hulu, Instagram, Kenny Beats, KSI, Lando Norris, Logan Paul, McLaren, Mark Zuckerberg, Meta, Miranda Sings, NetEase Cloud Music, Netflix, Pico, PinkPanthress, Patreon, Prime Video, ProCreate, RADAR Podcasts, Russ, The Last Dance, Sadie Jean, Shorts, Snapchat, SoundCloud, Spotify, Stem, The Race Media, Tencent Music Entertainment, TikTok, Twitch, Twitter, YouTube, Zype