Video reports bundle
Available for a limited time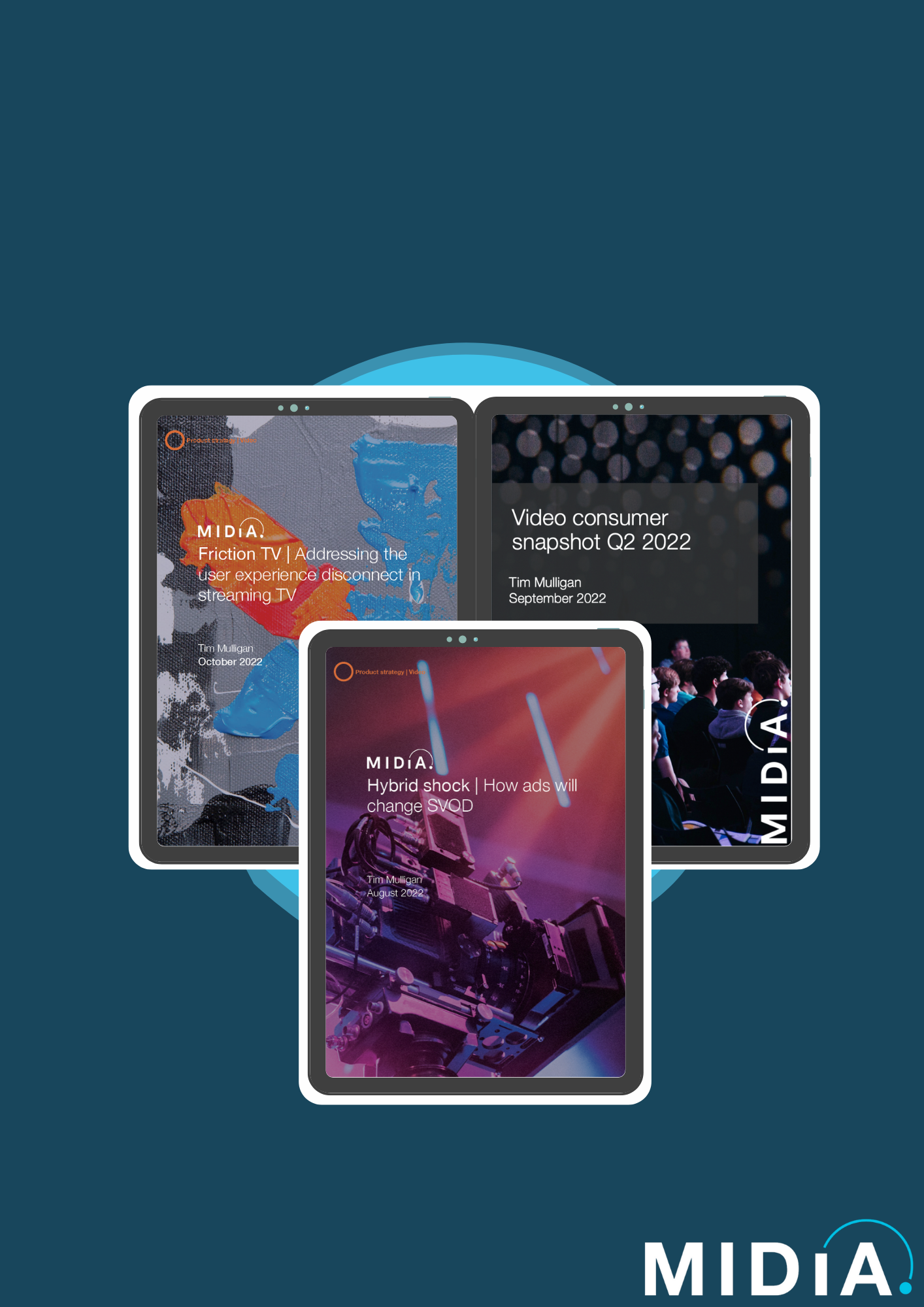 Currently available for purchase.
This bundle contains three of our most recent video reports, providing you with a wide selection of insights and content from our analysts. Take this opportunity to get some of our most recent data at a discounted price.
Friction TV: Addressing the user experience disconnect in streaming TV
Streaming TV is now the default way to consume TV content. However, the streaming TV era is now the friction TV era, due to the fragmented nature of the direct-to-consumer siloed, competing brands. Consumers require multiple services with different user experiences to engage in the full range of TV content previously available in one ecosystem. Short of reaggregation, cross-silo content discovery and curation experiences are now essential to take the friction out of the streaming TV user experience, with the next evolution of the screen (e.g., virtual reality and the self-driving car) to follow over the subsequent five years. 
View the full report description  here . 
Video consumer snapshot 2022
This slide deck presents consumer demand for video subscription services and streaming consumption, with detail for streaming services and video consumption preferences
The data is pulled from MIDiA's 2022 consumer survey, fielded in the US, UK, Australia, Canada, Germany, France, Sweden, South Korea, and Brazil
The total sample size of nationally representative year old online respondents was and the survey was fielded in June 2022
View the full report description  here . 
Hybrid shock: How ads will change SVOD
The combined effects of market saturation for subscription video on demand (SVOD) alongside a growing cost-of-living crisis are forcing pureplay SVOD services to modify their ad-free propositions. Disney-owned Hulu has demonstrated the viability of an ad-supported SVOD basic plan, which now offers a blueprint for Disney+ and Netflix. The passive tolerance of ads among most SVOD users, and the increasing importance of ad-familiar silver streamers, will offset short-term churn risks. However, video subscribers over-index for disengaging with ads, highlighting the brand reputation risks. With Apple TV+ now the sole only-ad-free paid video service with global reach, implementing ads into paid video subscriptions increases the disruption risk for incumbents for SVOD services that go down the ad route.
View the full report description  here .