The Case for News in Video D2C Services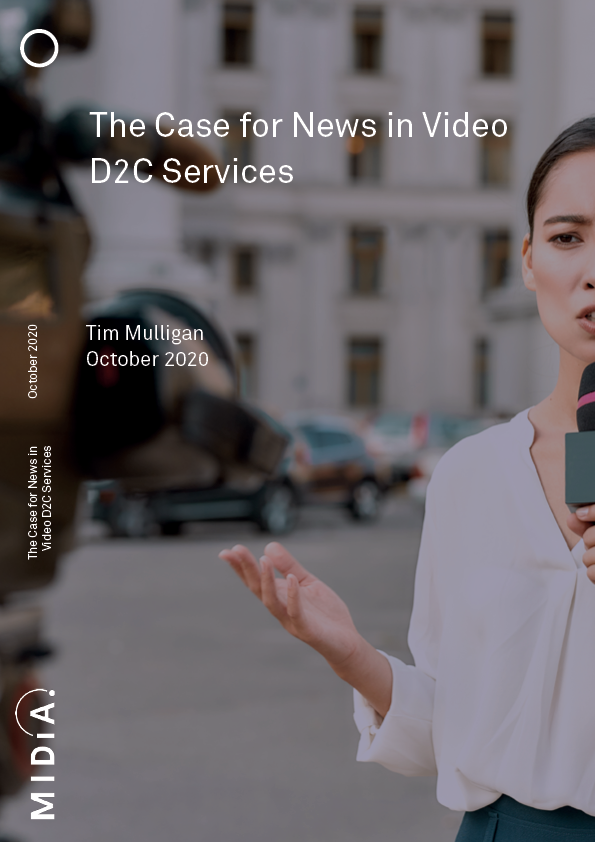 Our clients have full access to all of our reports. Clients can log in to read this report. Click here to become a client or, you can purchase this individual report.
The 20,000 Foot View:  Digital disruption of the traditional pay-TV landscape was led by subscription video on demand (SVOD) services using scripted drama to gain consumer adoption, one of pay-TV's very own four pillars. With SVOD originals strategy now diversifying into factual and reality, the two remaining pay-TV pillars sports and news are all that is stopping SVOD being a full like-for-like replacement for traditional pay-TV. With sports ROI hindered by excessive valuations, news is optimally placed to join scripted drama, factual, and reality at the core of direct-to-consumer services, catalysed by live coverage and the growing tribalism of politics.
Key Insights
News is being reborn with

of consumers spending

hours per week consuming news (more than any other media genre)
News, however, is a utility rather than fan-focused, being the favourite TV genre for just

of consumers, making it just the sixth most popular genre
Yet news is also set to grow, with

of consumers intending to increase their news consumption 

and politics catalysed news consumption, with channels on YouTube seeing a

increase in subscribers (nearly twice as quickly as the YouTube average) and a

increase in views from April to October 2020
Apple may be particularly well placed in the future of news, with Apple TV+ weekly active users over-indexing for news preference
News audiences are older with

of news genre fans aged

High news consumers are on higher income, over-indexing in the

household income bracket
Digital paid news subscribers over-index for connected device video consumption and under-index for TV-based video consumption
Paid news subscribers are digital sophisticates, with only

them watching live TV weekly compared to the consumer average of

and they over-index for paid video subscriptions 
Companies and brands mentioned in this report: Amazon, Amazon Prime Video, Apple, Apple TV+, Comcast, Facebook, Google, Peacock, YouTube