The Sports Video Landscape
Sports Streaming Services in a Digital First Ecosystem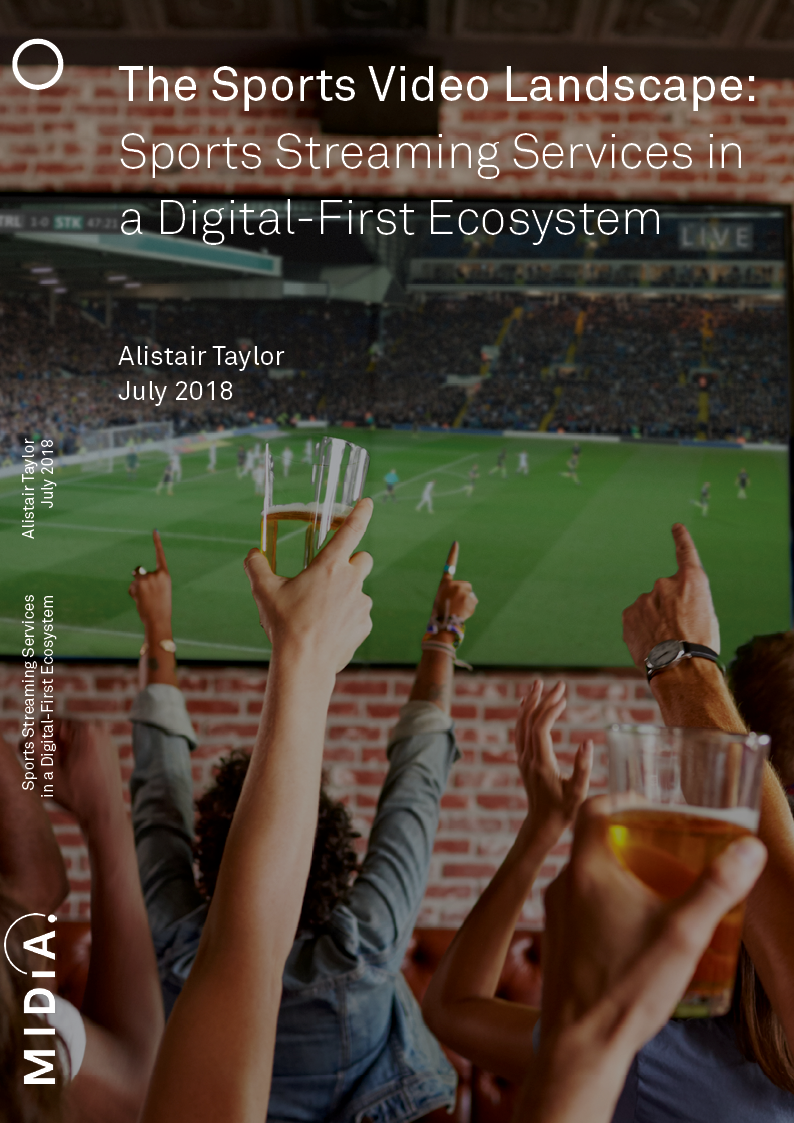 20,000 Foot View:  The dip on the English Premier League (EPL) rights deals compared to the deal highlighted the decline in value for sports broadcast rights. In light of this downturn and a fall in the consumption of sports content on traditional linear TV, moves are being made into the subscription video on demand (SVOD) space, with Disney's new direct-to-consumer flagship sports SVOD service ESPN+ leading the charge. This has led to an influx of digital rights deals, taking distribution away from the traditional broadcasters, as competition for the attention of sports consumers intensifies. These current international rights deals for premium content, although disrupting the landscape, are merely the precursor to a major shift in sporting rights.
Key Findings
TV sports

declined from

in

2017 to

2018, across US, UK, Australia

Canada
US TV

viewing declined from

in

2017

in

2018

of those who regularly watch sports on TV in the US, UK, Australia and Canada are aged over

Only

of

aged between

in the US,

Australia and Canada regularly watch

on TV as of

2018
Cord cutting

in the US, UK, Australia

Canada was

in

2018

of cord cutters in the US, UK, Australia and Canada are aged

US, UK,

and Canada household pay-TV subscriptions

from

in

2017, down to

2018
EPL rights

between 2016 and 2018, leading

the acceptance of a digital

bid to stream live games

for the first time
Sky's share

the EPL rights deal decreased,

only

of the games for

with

in
Companies and brands mentioned in this report: Allsvenskan, Amazon, Amazon Prime, Amazon Prime Video, BBC, BBC iPlayer, Bellator, BT, CBS, Chinese Super League, DAZN, DirectTV Now, Disney, Eleven Sports, English Premier League, Eredivisie, ESPN+, Eurosport Player, TV, Facebook, FIFA, FIFA Confederations Cup, FIFA World Cup, Hulu, ITV, ITV Hub, La Liga, Matchroom Sports, Mediaset, MLB, NBA, NBC, Netflix, NFL, NHL, Optus, SBS, Serie A, Setanta, Sky, Sky Sports, Sling, Twitter, UEFA Champions League, UFC, UFC Fight Pass, Wall Street Journal.