US PAY-TV Disruption And Consolidation
How Streaming Video And Cord Cutting Are Re-Shaping US Pay-TV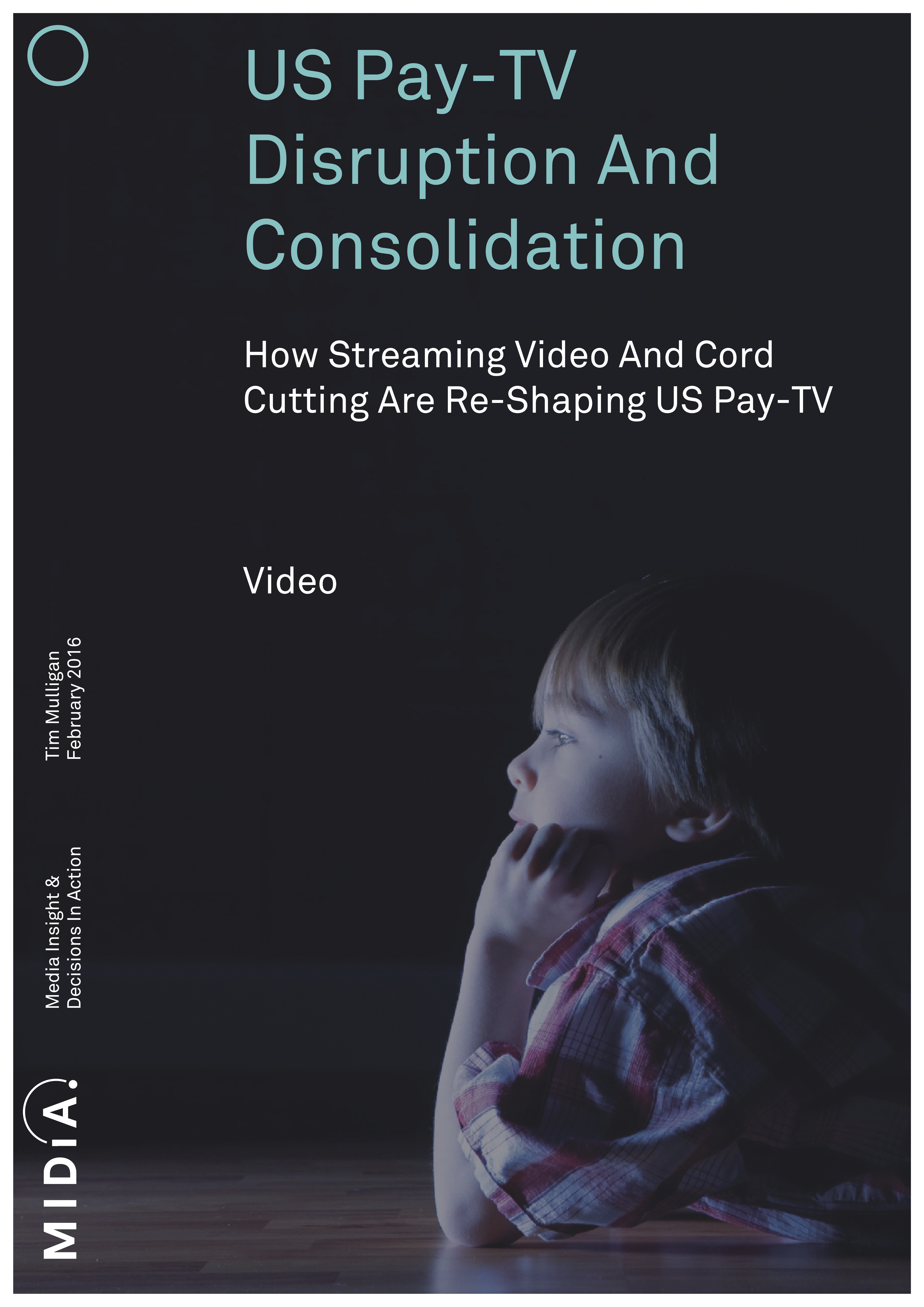 Our clients have full access to all of our reports. Clients can log in to read this report. Click here to become a client or, you can purchase this individual report.
The 20,000 Foot View
2015 was a year of unparalleled transition for US pay-TV. AT&T's acquisition of DirecTV catapulted the communications company to the front of the pack with a combined subscriber base of million, reaching nearly a quarter of US households. Meanwhile regulators blocked Comcast's year long bid for Time Warner, enabling rival Charter Communications to move in on the newly vulnerable target. At the same time Altice firmly established itself in the US top ten with its purchase of a majority stake in Suddenlink Communications, followed in September by the acquisition of Cablevision.
Key Findings
Total Subscribers to the top ten US pay-TV companies declined in 2015 from

million in 2014 to

million in 2015, a decline of

of the US top ten operators experienced subscriber falls in 2015
AT&T's new combined pay-TV subscriber base was flat at

million compared to 2013 but this obscures a loss of half a million U-verse subscribers in 2015
Both domestic mergers and outside acquisitions are consolidating the market
Including SVOD, the US pay-TV subscriber base grew by

in 2015, up from

million to

million
The US SVOD subscriber base increased by

million in 2015, representing a

increase and growing the SVOD share of the total market to

SVOD services are growing the US pay-TV subscriber base but their much lower pricing points lead to a longer term decline in ARPU
Multiplay is pay-TV's 'unfair' advantage and will enable it to offset decreases in TV spend due to SVOD
Companies mentioned in this report:  Amazon Prime, Altice, AT&T U-verse, Bright House, Comcast, Charter Communications, Cox Communications, DirecTV, Discovery Communications, Dish Network, Disney, ESPN, Hulu, Mediacom, Netflix, New Corp, Sling, Suddenlink, Verizon FIOS